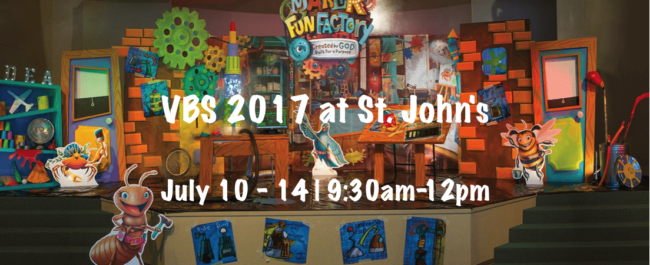 VBS Maker Fun Factory – "Created by God; built for a purpose
When:
July 10, 2017 @ 9:30 am – July 14, 2017 @ 12:00 pm
2017-07-10T09:30:00-07:00
2017-07-14T12:00:00-07:00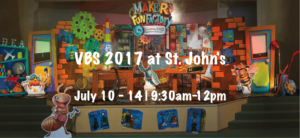 Each day has a specific theme. Wednesday (day 3) the theme is "God is always for You." Last week we noted there are four stations that the kids visit during the day called (1) Bible Discovery; (2) KidVid Cinema; (3) Imagination Station; (4) Fun&Games.
What happens at the stations? Today we'll look at Imagination Station. Each day has its own focus. On Monday the children stuff G.U.T.S.Y. Bears to reflect on all the wonderful ways God makes us…inside and out. On Tuesday we play with "connect-a-gears" to build amazing structures and remember that God support and builds them up. On Wednesday we spin whirly gigs with a breath of air and recall God is always with us in spirit even though we can't see him. On Thursday we decorate gobots and watch them go and stop and be reassured that God's love for us…never stops. Finally on Friday we put together "perplexinators" to remind us that God made them and us for a reason..even if we might not know the reason yet.
What fun! And we need assistant Imagination team members. Would you volunteer? Let Imagination team members Joan Gory or Barbara Gillott know!